We are living in a pivotal time where the force for profound, lasting change feels different and hopefully, more permanent than in years past. The deaths of George Floyd, Brionna Taylor, Ahmaud Arbery, and so many others have shocked us into action. At The Artist Tree cannabis dispensary and art space, we have a unique platform for showcasing artists from all backgrounds to promote inclusivity and community. The Artist Tree strives to help remedy the racial injustices that plague black Americans by encouraging positivity, creativity and love. We proudly join the millions of people who are making their voices heard across the nation in the fight for racial equality and justice. 
In support of the Black Lives Matter movement, The Artist Tree  launched a special art exhibit in June featuring a collection of works by black artist Gabe Gault. The pieces in the exhibit express Gault's experiences and identity as a Black American man. His works employ classical techniques on modern subjects, highlighting influential figures who have made a positive impact on our culture. Subjects include Mohammad Ali, Jimi Hendrix, Nipsey Hussle, Yayoi Kusama, Spike Lee, Blake Leeper, Ai Weiwei, and Cornell West.  A portion of the proceeds from the sale of each piece will be donated to nonprofit organizations that promote social justice and racial equality, such as the NAACP Legal Defense and Education Fund, Black Lives Matter, and the ACLU. 
Growing up in the vibrant, diverse, and creative community of Venice Beach made a lasting impression on Gault. Early struggles with a reading disability led him to create art as a way to express himself and explore his identity as a Black American. His works often feature backgrounds with a juxtaposing urban camouflage pattern and classical flora used as a storytelling device. In addition to the pieces currently on display at The Artist Tree, Gault has created several notable works, including murals for the legendary Grande Ballroom in Detroit, Complex magazine, Nike® and Nike Air® and commissions for the NAACP, the Will and Jada Smith Foundation, and UCLA's Centennial "100 Years of Activism."
Art Reflects Life at The Artist Tree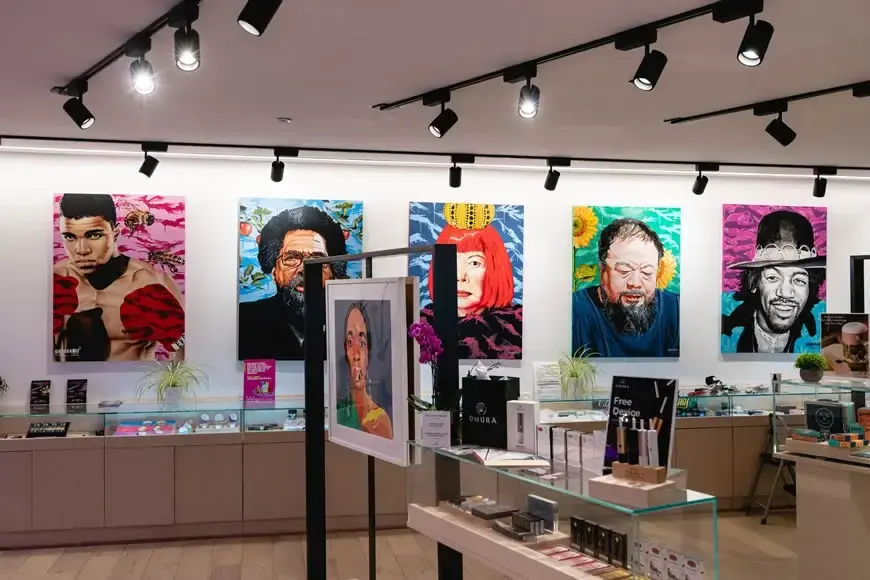 The Artist Tree is a one-of-a-kind destination for art and cannabis exploration in the heart of West Hollywood. As one of the only art exhibition spaces currently open due to COVID-19, The Artist Tree provides a unique venue for artists to display their works and to comment on current events. Through the current exhibit and others, The Artist Tree celebrates diversity and strives to inspire customers to join the fight for lasting social change. 
Co-Founder Lauren Fontein explained that "The Artist Tree enhances your perception of the arts and changes how you experience cannabis. Our constantly changing art collections and carefully curated cannabis product offerings create an immersive experience unlike any cannabis retail location in California." 
The flagship retail store offers a variety of cannabis products – vape cartridges and topicals, edibles, CBD wellness products, craft strains, premium extracts, concentrates and pre-rolls. Featured brand products are showcased in custom display tables to allow The Artist Tree's certified Guides to provide customer consultations and encourage product exploration. Interactive touchpads for ordering products are positioned throughout the retail showroom with built-in product and cannabis information.  A secondary sales area and lounge in the rear of the store are available by invitation only for private consultations and personalized concierge experiences.  
Connection to the Community 
Serving the community is the heart and soul of The Artist Tree. In addition to the Black Lives Matter inspired exhibit, The Artist Tree launched its "Shop to Stop Hunger" in June. In reaction to COVID-19, The Artist Tree team sought to provide food to those who have been negatively impacted by the virus. "As a member of the greater Los Angeles community, we feel a responsibility to give back to the community and to encourage our customers to do the same," said Lauren. "We were fortunate to have remained open throughout this difficult time, and we used our forum to raise funds and create awareness about the economic ramifications of COVID-19 on our community." For each purchase throughout the month of June, The Artist Tree donated one meal to the Los Angeles Regional Food Bank resulting in a donation of over 6500 meals.
The Artist Tree in West Hollywood, California is open daily from 8:00 AM – 9:50 PM at 8625 Santa Monica Blvd., West Hollywood, CA 90069. The dispensary offers delivery and express pick up and accepts online orders at TheArtistTree.com.