At The Artist Tree, we know there is so much more to being a West Hollywood dispensary than just providing you with your favorite products. We view our store as a multi-dimensional blank canvas for collaborating with a variety of artists and educators. 
While cannabis, art, and music are at the core of our identity, wellness and education are just as important to us. We know that improving health and wellness are essential to our clientele, now more than ever. For this reason, we are thrilled to announce our budding partnership with Lit Yoga by presenting our inaugural live yoga session. Lit Yoga is a cannabis wellness company focused on education and building a global community. Our shared sense of community and education is the foundation of our relationship, and we're elated to embark on this new journey together. 
On August 6th, Lit Yoga instructors Cole Night and Vance Vlasek created a fully immersive wellness experience in our VIP shopping lounge, also known as The Studio. Cole is a multi-faceted DJ, Producer, Sound Healer, and Yoga Teacher. She teaches unique yoga sequences that "connect your intangible to the manifest through breathwork, fluid intuitive movement, and sonic journeys." Vance believes that garnering power is at the root of yoga, and the greatest power is love. "If teachers work from this rooted place of love, our teachings will become more powerful. Our students will become empowered. The world may become more…lovely." 
A West Hollywood Dispensary of Joy and Goodness
Lit Yoga takes a non-judgemental approach to plant medicine and spiritual practice by providing an inviting environment for elevated people to awaken their senses. By teaching at The Artist Tree, Vance says that the experience exemplifies "A dispensary of joy and goodness."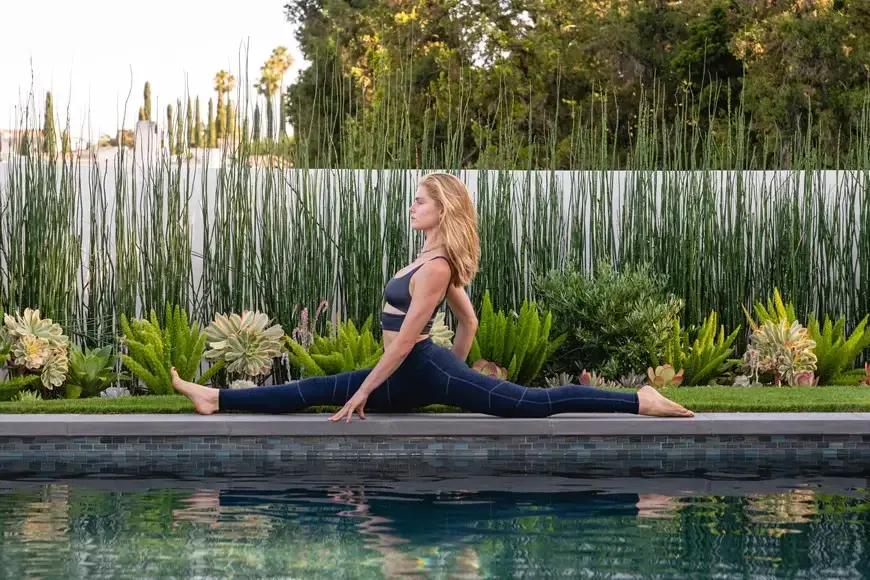 The initial session began with Vance and Cole encouraging people to responsibly enjoy cannabis for "exploring yourself and the medicine." Breathwork then followed to "establish Vajrapradama Mudra for unshakable trust and faith. In the third chakra, this focuses the energy of established self, or healthy ego" Vance explained to the class.
Cole and Vance took turns gently guiding the hour-long session integrating poses such as downward-facing dog, three-legged dog, cobra, stretching, and breathwork. To softly wind things down, Cole created a sound bath meditation encouraging participants to use their third eye from a bird's eye view and gaze down upon their body. "Nothing is a mistake, nothing is a coincidence. And with that trust, allow these sounds and vibrations to lift your spirit up a little higher and move into a meditative state." Cole ended the experience by asking the participants to "Bring your hands to your heart center and integrate everything discovered from the session. We're connecting our bodies to our consciousness." 
There is an inherent synergistic and spiritual relationship between cannabis and yoga. It is a centuries-old pairing as cannabis references appear in the ancient Sanskrit language. We are genuinely pleased to provide a safe, nurturing yoga experience in The Studio. Vance summed it up well by saying, "Have faith that you're on the right path to explore yourself. Feel the gratitude."
You can enjoy Cole and Vance's inaugural session on our Instagram page, and we invite you to stay tuned on our website and Instagram page for information on our next yoga session. To learn more about Lit Yoga, please visit their website or their Instagram page. The next time you visit The Artist Tree, you can also ask our budtenders about upcoming events at the best cannabis dispensary in West Hollywood. We're looking forward to seeing and connecting with you.