When we first came up with the idea of The Artist Tree, we wanted to develop something so much more than just a traditional cannabis dispensary. To us, it was our responsibility to create a place where cannabis and creativity collide. We wanted to create a community. A place that is so much more than the spot you grab your favorite eighth or gummies.
As we continue to grow and evolve, you'll notice our exhibits changing periodically. Make no mistake, we are just as invested in our curation of products as we are in the artwork we display throughout the store.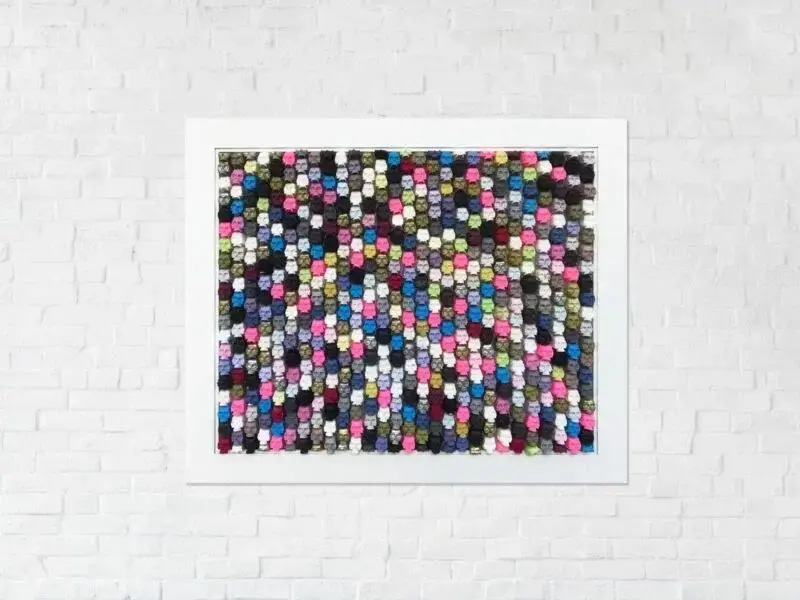 Through our current Community Mosaic exhibit, we are proud to showcase an extremely talented and diverse group of artists, including Kevin Champeny, Dezcjon Lathrop, Showzart, and Zoe Rose Schwartz. Each brings something unique to the space for the next two months, but there is one underlying theme. They all combine a variety of seemingly disparate elements, oftentimes in juxtaposition, to create thought provoking works that are mosaics of their varied experiences. 
Featured Artists at The Artist Tree Dispensary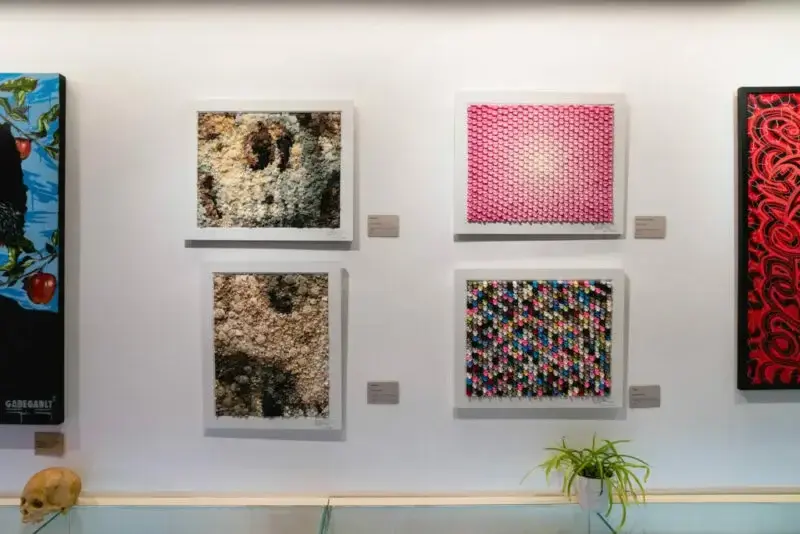 Kevin Champeny blends the worlds of photography, painting, and sculpting in a way rarely seen before. His works uniquely combine hundreds – sometimes thousands – of hand sculpted pieces. His mosaics, through layering and color, are immensely detailed and elicit the tension between the individuals pieces and the overall image they compose. In Itty Bitty Pretty in Pink and Noise, Champeny takes something as lonely and lifeless as a singular skull and combines it with a multitude of variations to bring them all to life. The finished products nearly jump out at you from their framed tombs with a mesmerizing energy. Similarly, his pieces Remains 1 and Remains 2 combine a variety of floral shapes and colors to make close up cross-sections of a human skull. 
Millard "Dezcjon" Lathrop IV has an incredible ability to intertwine classical art training, fine art quality work, street art texture, and burning passion. His pieces, 7.27, Free Yo Mind, and OG RFTC reflect this, expressing messages of solidarity and empowerment for disadvantaged groups of all colors and creeds. Growing up in South Central Los Angeles, Lathrop never imagined he could turn his passion for artwork into a full time profession. Now, his paintings, street art, and murals are visible throughout Los Angeles. His works, displayed boldly on the sides of businesses or gallery walls, jump out and grab your attention. In addition to creating his own works, Lathrop teaches art for adults with special needs and disabilities, which has enabled him to consistently see the power and impact of art. 
Zoe Rose Schwartz deploys a veritable arsenal of artistic styles, using different mediums to bring mesmerizing color and vibrance to portraiture. Her ability to convey human nature and emotion through her imagined subjects gives gallery goers as unique a perspective on the human form. Through her works Awakening to Truth, Of Sweetest and Uplifting Condolences, Sunday Picnic, Lost in My Mind Schwartz explores various expressions of the human face and body. In The Love of Venus and The Swindler, she cleverly combines classic artworks of Vincent Van Gogh and Sandro Boticellli with portraits of their creators.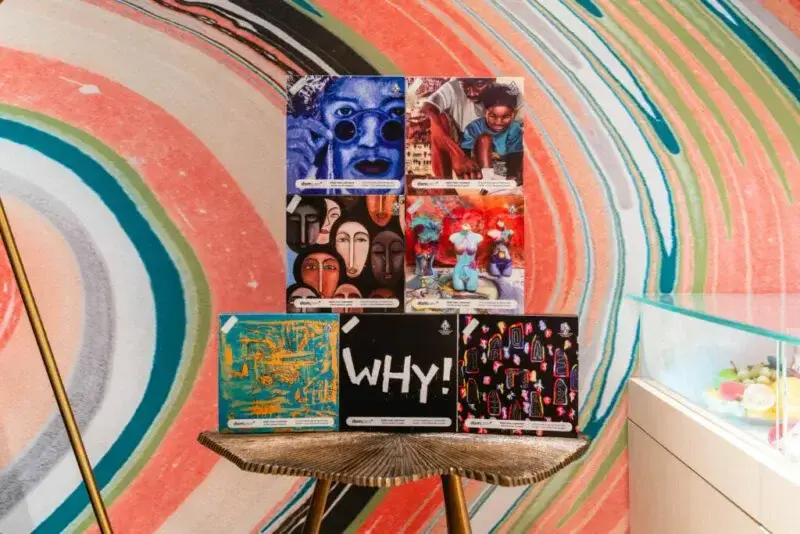 Crushow Herring aka "Showzart" has been shaped through his environment in a way few other artists can claim. Taking his inspiration from the streets, in particular Los Angeles's often overlooked Skid Row, he is able to bring life to a community that lives at the end of society's peripheral view. As a long-time resident and community organizer of Skid Row, Showzart has created poignant and evocative murals throughout the area with the goal of creating light amidst the darkness. His work is displayed in our limited edition Skid Row Connect packs by Dompen. The moving image features a father tying his son's shoe against a background montage of threatening imagery – the Ku Klux Klan, policemen brandishing guns, and of gang bangers flashing signs. Encapsulating the struggles of black life in America and, particularly, those living in poverty, Showzart's work evokes a guttural reaction that urges us all to fight for change. 
We bring together artists of a multitude of backgrounds with the goals of reinforcing our community and changing perceptions of humanity. What makes each of us so different is oftentimes what brings us all together. You may just have to be willing to dig deeply to see it.