The Artist Tree Dispensary Fresno
The Artist Tree is a unique destination that combines cannabis with local artwork in Fresno, California. Our cannabis dispensary is known for our friendly and knowledgeable budtenders, great selection of products, and our beautiful store design. Whether you want flowers, concentrates, or edibles, we have it all here at The Artist Tree – Fresno Dispensary. We are a fully-licensed dispensary in Fresno for 21+ adult-use recreational dispensary sales and 18+ medicinal patients. Open daily for in store shopping, delivery and pick up.
the best selection
and deals in Fresno
We offer the largest selection of cannabis products and more deals than any dispensary in the entire Central Valley! View our menu of hundreds of varieties of flower, prerolls, edibles, and concentrates.
Shop in store or order online for delivery and express pick up
We carefully curate the cannabis we offer and the team we hire — so you can have the most welcoming and thoughtful experience possible. This isn't a typical retail experience where you grab your goods and go home. This is a gallery experience that infuses art and cannabis into one seamless adventure. Stroll through our space at your leisure to experience ever-changing art exhibits and our wide selection of top cannabis products.
We're proud to welcome you to Fresno's newest dispensary and our new Artist Tree establishment, located in Park Place! We're excited to bring you the same high quality and welcoming vibes as all of our other locations. Only 1 mile from the 41 freeway, The Artist Tree is easily accessible from all parts of Fresno, Herndon, Madera and surrounding areas.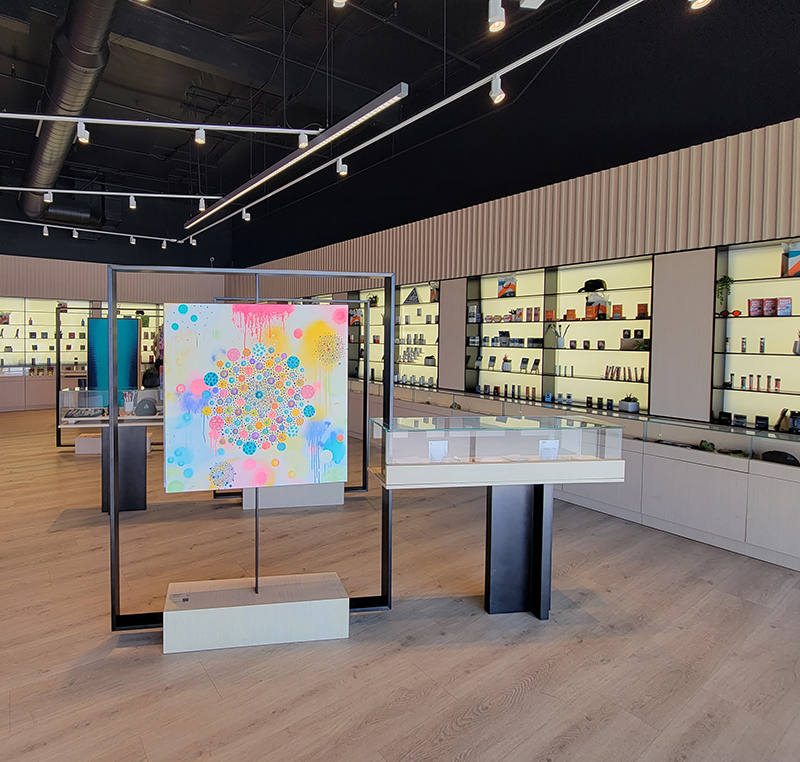 fresno dispensary faq's
The state of California and local cities place numerous taxes on legal marijuana.
Here is a breakdown of current cannabis taxes
Recreational Marijuana (adult-use) customers:
State excise tax for cannabis: 15%
State sales tax: 9.5% (in West Hollywood and Los Angeles)
City cannabis sales tax: 4% in Fresno
Medical Marijuana Patients:
Patients with a medical marijuana ID card (MMIC) or doctor's recommendation save on some of the taxes above. This is a little confusing. Here are the details:
All patients pay state excise tax (15%).
Patients with a MMIC do not pay state sales tax (9.5%)
Patients with a doctor's recommendation (but no MMIC) pay state sales tax (9.5%).