We started The Artist Tree dispensary and delivery service in West Hollywood as a warm, welcoming, and artistic environment while providing California's best cannabis products. We are continually thinking about improving our customer experience, and we're thrilled to announce the opening of our new VIP lounge, The Studio. 
A Concierge for Cannabis
The Studio is a private, invitation-only shopping lounge within our dispensary where VIP customers enjoy personalized, curated shopping experiences with the help of our expert cannabis Guides. Much like a professional concierge at a five-star hotel, our Studio Guides provide valuable insight, suggestions, and exclusive product options for our Studio members. It is a personal cannabis shopping experience unlike anything else in Southern California. 
Exclusive Member Benefits
The Studio experience begins with discrete, private access to the lounge for all Studio members. During your visit, members can explore limited product drops and receive exclusive member-only gift bags. Our Guides revel in one-on-one conversations with Studio members about their preferences and our exceptional product offerings. s. Learning about the secrets of cannabis is an on-going pursuit for many Studio members, and we're here to help them.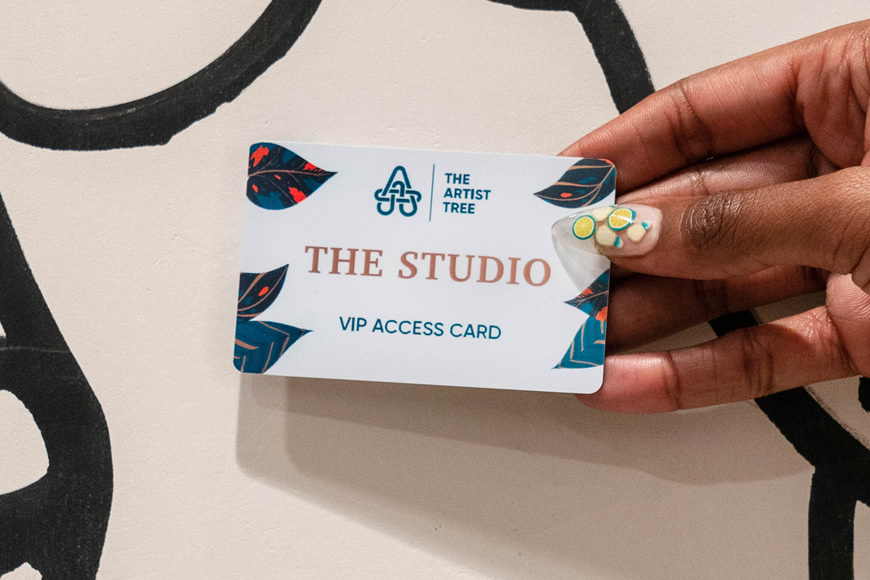 Shop for the Cannabis, Stay for the Art
The very essence of a studio is to provide a creative, contemplative space, and we want our VIP guests to take their time during their visit. Members enter The Studio through hidden doors covered in a custom mural by Jahlil Nzinga. Within The Studio, they'll find an original floor-to-ceiling mural by local muralist, Ellierex, and original artwork from other talented local artists. Our Guides also serve as docents to answer questions about the artists and their work. We encourage our Studio members to relax in the cozy, handpicked furniture, take in the art, and enjoy beverages and snacks provided by The Studio team. 
"The Studio is a cozy, art-bedecked hangout space where members get private, VIP treatment unlike any other shop in Southern California. We created it to provide our extra special customers with a memorable experience each time they visit The Artist Tree," Artist Tree, founder, Lauren Fontein, explains. 
To learn more about becoming a select member of The Studio, please talk with one of our team members or follow our social media channels for details. Certain qualifications, terms, and restrictions apply, and Studio membership is by invitation only.