Shopping at The Artist Tree just got better! We are always looking for new ways to reward our customers. This time it's our newly launched Loyaltree rewards program. Our Loyaltree rewards program is available to anyone and is free to join. Being a Loyaltree member allows customers to earn a point on every dollar spent, in-store and online. Reward points can be redeemed for a variety of discounted items and storewide savings!
We offer numerous reward options for our West Hollywood Dispensary Loyaltree members. In exchange for reward points, members can purchase a range of premium edible, vape, flower, and pre-roll products for only a penny! Current rewards items include Artist Tree Pre-Rolls, Wana Gummies, Space Coyote Pre-Rolls, Moxie 1 gram Vape Cartridges, and Smarty Plants 1/8ths. Reward items are subject to change and vary based on availability. If you'd rather choose your own products, you can exchange points for a one time discount of 15% or 20% off of your whole order. You can also save up to accumulate enough points for  10% or 15% off of all your orders for an entire year!* 
 All customers who download the Artist Tree rewards wallet to their phones will receive one Artist Tree Pre-Roll for a penny! Show your phone in-store to receive your pre-roll.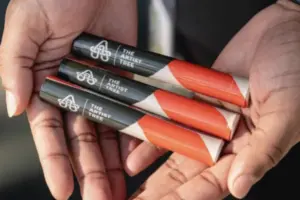 Loyaltree members also enjoy a number of additional benefits that don't require use of reward points. These include double point days, birthday rewards, first access to limited release products, and much more. 
Not a member yet? You can sign up for our Loyaltree program here or the next time you visit one of our stores. If you have already signed up for our text messaging service and are getting our texts, then you're in luck. You are automatically a Loyaltree member and will be accumulating points on every visit after March 29, 2021. We will keep you up-to-date on exclusive member benefits and deals via text. 
Our expert Guides have hand selected a variety of customer favorite products to offer through our rewards program. Our goal with Loyaltree is to give back to our loyal customers by offering popular products and discounts that get better and better the more you shop with us. Our rewards items vary over time and we'd love your feedback. If there are any products you would like to see as a reward, please let your guide know! We hope to make your buying experience as fun and rewarding as possible here at The Artist Tree.
You can view your rewards points balance and available rewards anytime by clicking the access code from one of our text messages, by opening The Artist Tree app, by clicking on the QR code posted in our stores, or by clicking here. Need help? Visit or call your local store, and one of our expert Guides will be happy to assist you. 
*Storewide discounts cannot be combined with other offers and apply to cannabis products only.