The Artist Tree is more than just a cannabis dispensary. We extend into a creative outlet for local artists to showcase and sell their work. When you shop at our stores, you get a greater experience than just buying cannabis legally. You get to experience the art within The Artist Tree.

The artists we display at each of our dispensary locations are primarily California natives, and we frequently rotate artwork to allow us to feature a wide variety of artists. . . We provide a glimpse into how cannabis inspires creativity and how that creativity can inspire the world. 
The Art and The Artists
We seek to expose community members not just to art, but, specifically, to local artists. Alongside rotating exhibits and displays, we feature permanent murals that provide art and culture from people that live and work here in LA.
The Artist Tree West Hollywood features an original mural by Ellierex, which creates a mesmerizing flow and space for the mind to wander in thought. Located inside our VIP shopping lounge, the mixed media and installation artist brings guests to a dream world.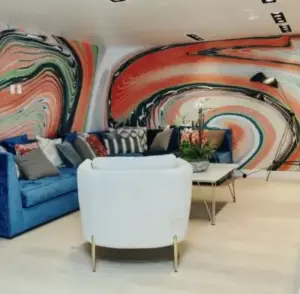 Eillerex usually starts her pieces with paper marbling technique, which you can view in real time on our website and Youtube channel. She then leverages digital tools to transform her creations into large scale wall coverings and other installations. Her works are purpose driven and evoke a calming effect through color and design. Ellierex's work has been featured at the Facebook headquarters in San Francisco, a permanent city bus wrap, and all the way to an 11 room temporary public art installation.
At our Los Angeles-Koreatown location, we have a distinctive mural by Matty Mo, covering the entire exterior of the Artist Tree building. The geometric mural features The Artist Tree's brand palette in modern contrast to the traditional design aesthetic of the building. It's designed to enhance Koreatown's vibrant and eclectic streetscape and make you think, "I want to see more."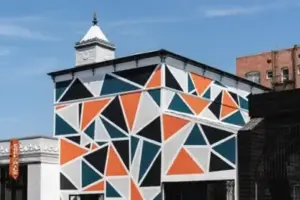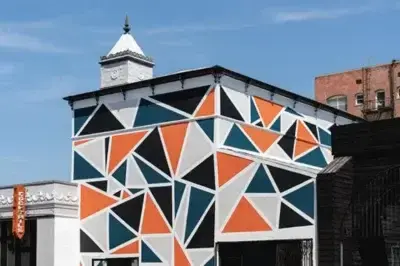 Mo is a Los Angeles-based contemporary artist best known for founding the conceptual art group, "The Most Famous Artist." The group's mission is rooted in three things we can align with at The Artist Tree: community, education, and support. Matty's moniker, The Most Famous Artists, is a prod at how captivated our society is with social media. Many of Mo's well-known installations are rooted in this concept. His work toys with artistic concepts, the conscious mind, and how it all intertwines with today's exponential technological boom and society's reliance on technology to function.
Our Commitment To Art And The Community

At The Artist Tree, we view art as a source of fuel for questioning life and our perceptions ofthe world. We also know that cannabis inspires a lot of art! We strive to show our communities that cannabis is friendly, and art creates culture. Both can serve their respective communities in growth. While cannabis frequently goes hand in hand with music, seen here, much less focus has been on cannabis as a force for uplifting other artistic media .
Come to The Artist Tree and check out top quality cannabis while spending time browsing the store and your local artists' work!
Click here to see more of our featured artists.