At The Artist Tree Dispensary and Weed Delivery, we aim to be more than your regular cannabis dispensary. We seek to curate the customer experience. Our budtenders, aka Guides, are your connection to the world of weed in Los Angeles and beyond. Our budtenders are aptly called "Guides" because they skillfully navigate customers through the product selection process, much like a tour guide. Our Guides possess a wealth of cannabis knowledge and are experts on all forms of cannabis products and consumption methods.
Our employees are like family, and every person that walks through our doors becomes an extension of that family. We're highlighting some of our extraordinary Guides to give you a closer look into The Artist Tree's culture.
Some visit LA for the weed. Some move here for it. Today we'd like to introduce one of our Guides who has been in the industry for many years and came to California specifically to do so, Christian Kent.
What is your favorite thing about working at The Artist Tree West Hollywood?
Getting to meet different people from different places. Share those experiences. It's cool to provide service. At the WeHo location, we get a lot of tourists. A lot of the customers that come in haven't seen legal cannabis like this. They come in amazed and we are able to educate them and also connect with them over cannabis. Help them explore this thing they love but aren't able to find much information and help with previously. We get to educate people and the job feels like meeting a new friend everyday.
Describe cannabis culture in LA and how you feel you guys fit in to that?
The culture in LA is like Hollywood. Everyone is trying to get to the next trend. We fit in perfectly with that when it comes to cannabis. We have relationships with a lot of the top brands so people can get that experience here at The Artist Tree.
What do you feel is the highest selling and/or most popular products?
Edibles – Wyld Gummies. Flower – CBX or Connected/Alien Labs. Concentrates – 710 Labs.
Most popular product type?
Flower.
How have you guys navigated COVID?
You know, it hasn't been too much of a challenge but we have had to adapt. We are making sure customers understand that they are not allowed to touch anything. Our Guides are able to show customers products but there is a no touch policy. Any moment we have to clean, we are disinfecting and cleaning. There is also hand sanitizer everywhere!
Your history with cannabis and why you choose to work in this industry?
I moved out here for cannabis. I've been in the cannabis industry for 5 years now. I started at shops that are no longer here from the medical market. I moved out here from Alabama and it's been a tremendous change from there. I love learning every day and discovering the things about this plant that we could only speculate in the past. It's amazing to see the growth and I'm happy to grow with it.
What are your favorite types of consumption and brands?
My favorite flower is easily the Cannabiotix Cereal Milk. That's the favorite strain right now. When it comes to concentrates,I gotta say 710 Labs Ghost Hulk Rosin.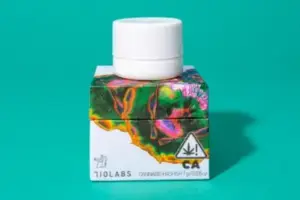 How do you feel cannabis and art intersect?
It's all about freedom. Setting your mind free. Art is able to allow you to relax from your mind. Cannabis does the same thing. Both of these things allow you to escape, relax, and think about yourself and life in a different light.
We have a family vibe here. Even though we get a lot of customers, we really get to know people. If you come here regularly, you become a part of The Artist Tree family.