Whether you're an Angeleno or you're just visiting, there are hundreds of things to do in this huge metropolitan area. From indoor activities to a variety of outdoor destinations, there are countless places to discover and explore. The City of Angels is also  teaming with celebrities, and . no matter which areas of Los Angeles you're exploring, there's always a chance of seeing your favorite star. 
At The Artist Tree, we proudly offer a one-of-a-kind cannabis and art shopping experience throughout Los Angeles with locations in West Hollywood, Koreatown, and Beverly Hills. Stop by and pick up your favorite cannabis supplies before spending a fun-filled day exploring everything Los Angeles has to offer. 
The Getty Center 
The Getty Center is LA's premier art destination. Overlooking the ocean in Pacific Palisades, The Getty boasts six different buildings and multiple gardens. Though it takes braving the 405 and hopping on a tram to get there, the journey is well worth it. The museum offers pieces from countless world famous artists, like Van Gogh, Monet, and Cezanne. For art aficionados, you can easily spend a whole day here while enjoying the gorgeous views.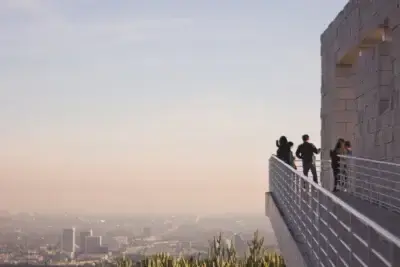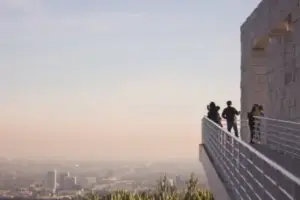 Petersen Automotive Museum 
For car aficionados, this museum is a dream come true. The Petersen Automotive Museum is the #1 automotive museum in the world. Located in LA's Miracle Mile, The Petersen is dedicated to showcasing automobiles and their impact on life and culture. There are over 350 vehicles on display in 25 different galleries. Car nerds will find this museum endlessly fascinating, while the rest of us will also have fun viewing vintage cars, futuristic cars, and vehicles from your favorite movies.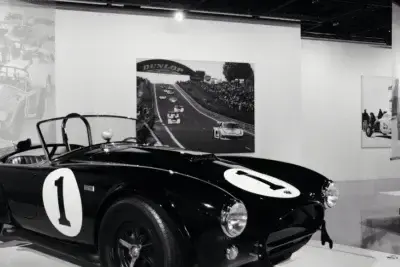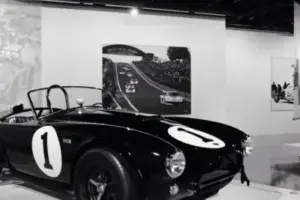 The Broad 
Los Angeles is nowhere short of art museums, but The Broad is one of the best, both because of its artwork and its architecture. This contemporary museum in Downtown LA has a honeycomb style exterior and boasts 120,000 square feet of space between two floors. The inside holds over 2,000 works of modern art from the Broad collection, including pieces by Andy Warhol, Ray Lichtenstein, and Basquiat.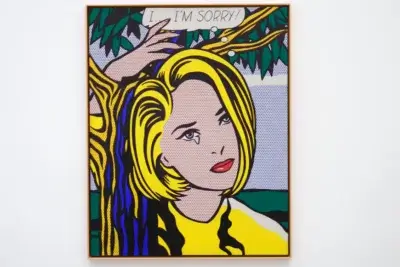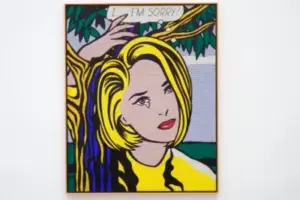 La Brea Tar Pits and Museum 
La Brea Tar Pits and Museum offers the world's only urban active Ice Age excavation site. The museum features fossils, animals, and plants that have been discovered in the area. The f animals found at this site include mammoths, saber-toothed cats, and dire wolves. Outside you'll find the La Brea Tar Pits which are active and bubbling. You'll also find a live dig site where new Ice Age specimens are discovered every day by scientists. The Tar Pits are surrounding by sprawling open areas to take a stroll and picnic.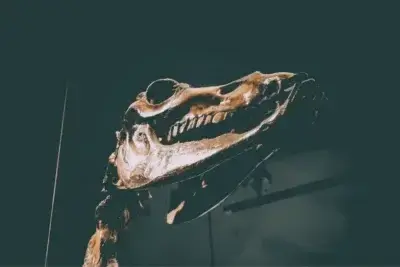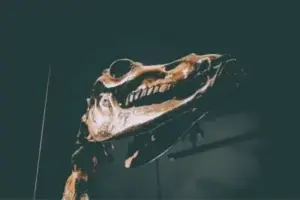 Visit Different Neighborhoods 
Los Angeles is way more than just downtown. Each neighborhood holds its own unique culture and environment. If you're looking for luxury, head over to Beverly Hills. If you want to relax on the beach, check out Santa Monica or Malibu.Interested in trendy art and fashion? Check out Melrose and Fairfax. Or dive into Eastern cultures and tantalizing cuisine in Koreatown and Chinatown.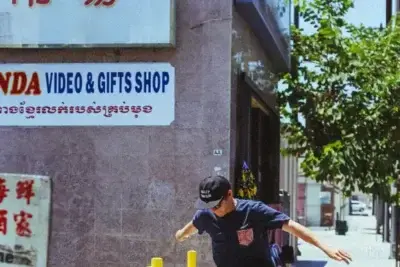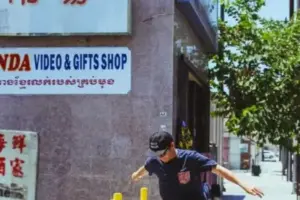 Venice Beach 
Venice Beach may have a mixed reputation, but it is a must to visit at least once. This eclectic and free spirited beach town features funky shops, murals, and a variety of street performers. Along the boardwalk you'll find a skatepark and the world famous Muscle Beach outdoor gym, making this a great place to people watch. On Abbot Kinney, you'll find an assortment of fine dining, cute boutiques, and bars. A highlight of this area is the Venice Canals, which run through the neighborhood adjacent to the boardwalk area and Abbot Kinney, giving the famed area its moniker – Venice.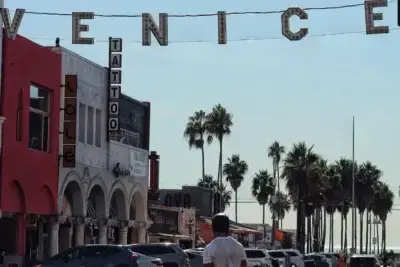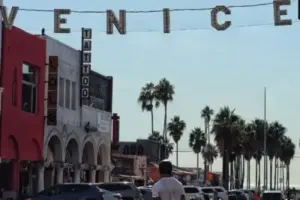 Los Angeles County Museum of Art (LACMA) 
You can easily spend a week going to museums in Los Angeles and still not visit them all. Another art museum that is well worth your time is the Los Angeles County Museum of Art, also known as LACMA. It is the largest art museum in the western United States boasting a collection of over 120,000 objects and art pieces. LACMA's collection spans far back through history and comes from all around the world. Outside you'll find the famous Urban Lights by Chris Burden, perfect for your next selfie.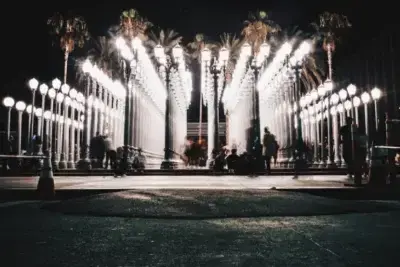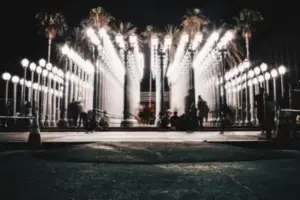 Grand Central Market 
With everything there is to explore in Los Angeles, you'll need some delicious meals to fuel your days. While there are restaurants on every corner, sometimes it's hard to find a place your whole group can agree on. Visit the Grand Central Market in Downtown LA to find an array of top notch food options for everyone. There are 40 different vendors offering food of all flavors and from a variety of ethnicities. Highlights include Moon Rabbit, Villa Moreliana, and Valeria's.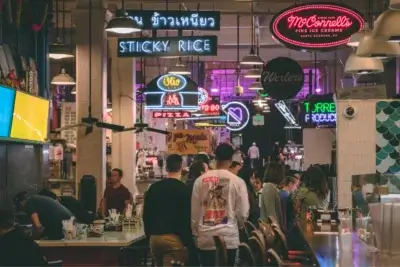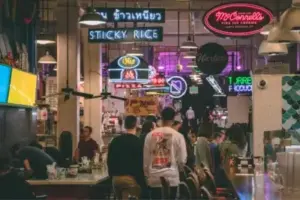 Scenic Drives 
Throughout Los Angeles there are beautiful and diverse landscapes, ranging from lush forestry and mountains to perfect beaches. Throw countless mind-blowing houses in and you've found yourself in paradise. Los Angeles is the perfect place to take a cruise in the car with the music 
loud and windows down. Visit Mulholland Drive for a windy road that borders Los Angeles and the San Fernando Valley,  where you'll find mind-blowing estates and views. If you're looking to be more immersed in nature, check out Palos Verdes Peninsula where you can ride along the undeveloped golden coast.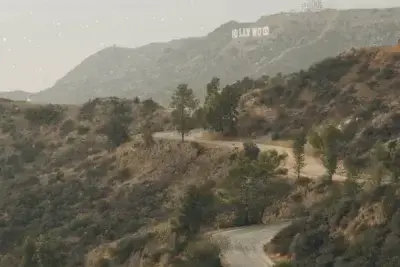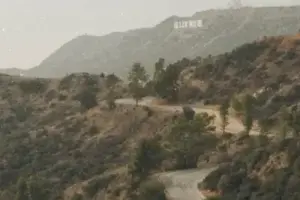 Enjoy Nature 
Though Los Angeles is an urban area filled with buildings, roads, and people, there are plenty of nature escapes throughout the city. From the coast line to the mountainous hills, you'll find scenes straight out of the movies in any direction you explore. If you're looking to explore rich forestry, visit the 8,000 acre Malibu Creek park in Malibu. Adventurous types will find varying terrain ranging from gorges and swim holes to peaks that expose views of the ocean. If you're looking for scenic coastlines, head over to El Matador or Point Dume State Beach.