Celebrate Pride Month In LA With The Artist Tree
The Artist Tree is excited to celebrate Pride Month with our local community. We regularly work with local LGBTQ+ artists to showcase their art and work on content collaborations. But for June, we're dedicating our entire West Hollywood and Beverly Hills art spaces to LGBTQ+ artists for a special Pride Month exhibit. We are alsoworking to help The Human Rights Campaign in partnership with Papa & Barkley.
In the month of June, our country remembers the Stonewall Riots in Manhattan by celebrating lesbian, gay, bisexual, transgender, and queer (LGBTQ+) pride and recognizing the huge contributions made by LGBTQ+ people throughout history. Following the police raid in June of 1969 on the local Stonewall Inn gay bar, many patrons were outraged to see the collapse of their safe haven and fought back for the one place they felt comfortable being themselves. This event had a great impact and sparked a global conversation on how LGBTQ+ people are treated across the world. One year after the events of the Stonewall Riots, the first pride marches were held in New York, San Francisco, and Los Angeles. Despite not gaining recognition in the United States until the year 2000, Pride Month has been widely celebrated for the past fifty years.
Help Us Support LGBTQ+ Rights
The Artist Tree is teaming up with Papa + Barkley to support The Human Rights Campaign. The Artist Tree and Papa + Barkley will each give $1 to the Human Rights Campaign for each Papa + Barkley balm sold at any of our stores throughout the month of June. That means each balm sale = $2 to the HRC!
Since 1980, the The Human Rights Campaign has made it their mission to guarantee that all LGBTQ+ individuals, especially those who are trans, people of color, or HIV+, are recognized as full and equal citizens inside the movement, throughout our country, and throughout the world. We encourage you to donate directly to the HRC in addition to supporting the HRC through your purchases at The Artist Tree.
You can support additional nonprofits that benefit LGBTQ individuals when you purchase products from PLUS and Kanha. PLUS is donating 10% of the proceeds from the sale of its products to TGI Justice in the month of June and is also featuring special Pride edition gummies. In June, Kanha is donating a portion of the proceeds from the sale of its products to the Ally Coalition, a group that provides critical support for LGBTQ+ youth.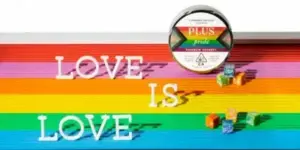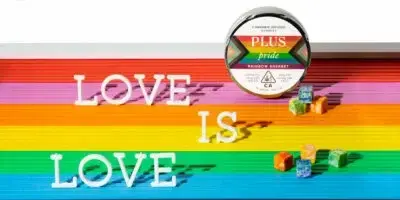 In addition to our fundraising projects, we are celebrating Pride Weekend with a special sale on Saturday & Sunday, June 12 to 13. Although the LA Pride parade and related festivities are cancelled this year due to COVID, we encourage everyone to celebrate Pride Weekend with us! On June 12th and 13th, get 50% off any item when you buy one of the same item at regular price! The sale is valid at all Artist Tree locations and online.
Support LGBTQ+ Artists At The Artist Tree
As part of the Pride month celebration, we are using this time to LGBTQ+ perspectives and spotlight the work of LGBTQ+ creators. This month, we are delighted to introduce a Pride Month display at both our West Hollywood and Beverly Hills stores to promote the work of several local LGBTQ+ artists.
SKÜT aka Scott Lewallen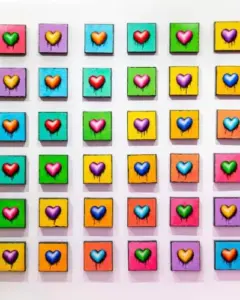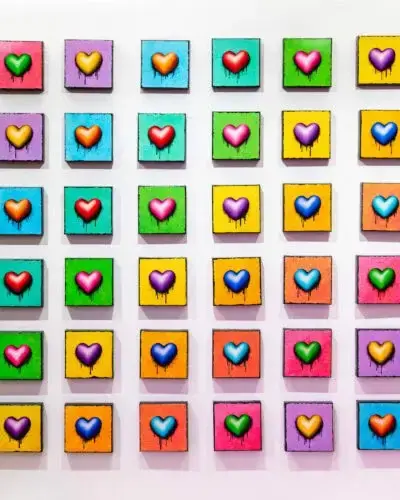 Co-founder and designer of the popular social networking app, Grindr, Scott now creates art under the name SKÜT. SKÜT has successfully held solo exhibitions and had a two-month residence at the V Wine Room gallery during World Pride 2019. For The Artist Tree's Pride Exhibit, SKÜT created a custom installation on the entryway wall at The Artist Tree West Hollywood titled "Heart Stone Wall." It celebrates the colors of the Gay Pride Flag in 68 individual heart paintings. In Scott's words, "The Gay Pride Flag, designed by Gilbert Baker in 1978, is a celebration of queer life, activism, inclusion, and social awareness. Each color represents a distinct virtue (sex, life, healing, sun, nature, magic, serenity, spirit) uniting us with this all inclusive beacon of our community. I infuse these colors and meaning into my rainbow artwork as homage to LGBTQIA+ history, honoring the trailblazers who came before us, and representing a full spectrum of race, gender, equity, and spirit for the movement." If you're eager to see more of his artwork, stop by The Artist Tree in June to see a variety of SKÜT's pieces, including sculptures and paintings, and visit his website.
Kelly Perez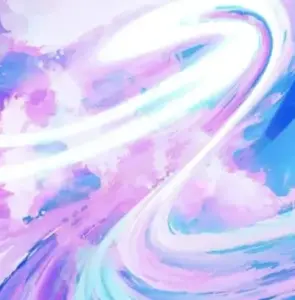 After working in the field of CG Animation for 9 years, Perez chose to focus on her passion, painting. Perez's primary inspiration for her work is the "magical connections found inside all of us when we choose to connect with our inner selves". If you like what you see, check out Perez's work in person at The Artist Tree and follow her on Instagram to take a look at more of her work!
K Ryan Henisey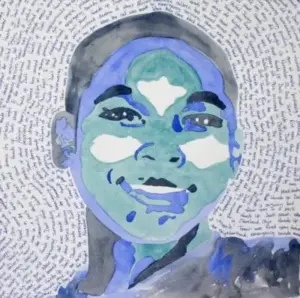 Ryan Henisey is another local artist featured in The Artist Tree's Pride exhibit. Heniseyengages with many different textures, often merging plastic, glass, and plaster with his painted artwork. At the 2015 California State Fair, Henisey's #ArtToEndViolence painting received an Award of Excellence. If you're interested in learning more, take a peek at Henisey's website.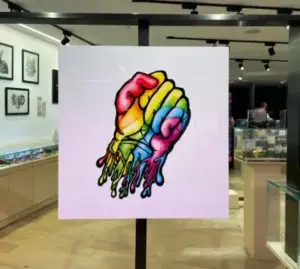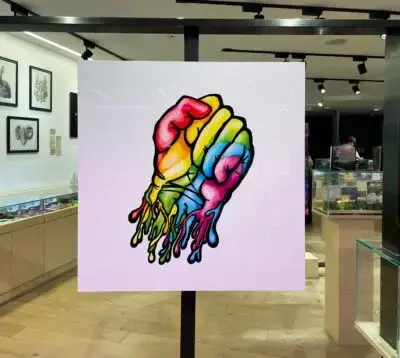 The Artist Tree Dispensary and Delivery locations can be found at 8625 Santa Monica Blvd. in West Hollywood, California; 8311 Beverly Blvd. in Los Angeles; and 520 S. Western Ave. in Los Angeles. We're open everyday from 8:00 a.m. until 9:50 p.m. Whether you're coming in for The Human Rights Campaign, the gorgeous art, or the Pride discounts. Please check out our menu to place an online order and stay up to speed on current promotions. We look forward to seeing you!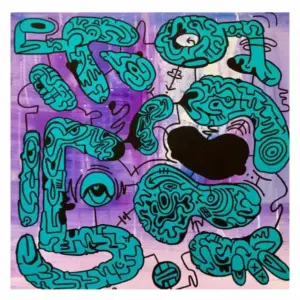 Emily Eizen produces multimedia art through the mediums of paint, sculpture, modeling, photography and home decor. Inspired by '60s psychedelic work she looks towards beauty, freedom, and diversity through her art.  Through colors that pop and a nostalgic flow to her creativity, she is able to connect to the cultures of the cannabis plant through each medium.