How are you sleeping? Do you get in bed the same time every night and quickly drift off to sleep, resting soundly until morning? Or, like a lot of us, do you struggle to fall asleep, wake throughout the night, and wake up tired each day? Sleeping well is essential for our overall health and wellness, but often, is much easier said than done. According to the Sleep Foundation, 10 to 30 percent of American adults live with chronic insomnia. The percentage is even higher for older adults as one study indicates poor sleep affects 30 to 48 percent of America's older population.
Getting a good night's sleep not only recharges our minds and restores our bodies, but also enables us to focus and function well throughout the day.  If you're struggling with sleep, The Artist Tree is here to help. A recent scientific study found that "Many of the reviewed studies suggested that cannabinoids could improve sleep quality, decrease sleep disturbances, and decrease sleep onset latency." Another study concluded that "…the results indicate a potential therapeutic role for cannabinoids in the management of some sleep disorders." The Artist Tree Marijuana Dispensary and Delivery in West Hollywood has many cannabis products that may be helpful for a good night's rest. Here are a few suggestions.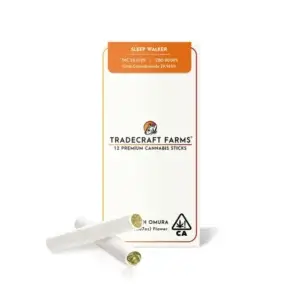 Sleep Walker Omura Stick by Tradecraft Farms
Omura created its sticks and revolutionary heat-not-burn device to deliver a convenient, clean, and consistently enjoyable whole-flower experience. OMURA has partnered with a variety of cultivators to create sticks that work exclusively with their Series 1 and Series X devices. Omura sticks deliver more than twice the amount of cannabinoids compared to traditional flower smoking. Each stick provides a controlled, precise amount of cannabis flower, which takes out the guesswork of proper dosing. Prepackaged, biodegradable Omura sticks mean no grinding, packing, or cleaning. They may be the most convenient option on the market for enjoying flower, because there is no smoke, ash, or lingering odor when inhaled.
In particular, The SleepWalker strain by Tradecraft Farms is known for its calming and relaxing properties that have been known to help with Insomnia, headaches and other similar syptoms. The strain is an evenly balanced hybrid that was created by crossing Sunset Sherbert and Purple Fig.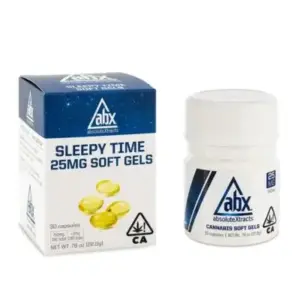 Sleepy Time Soft Gel Capsules by AbsoluteXtracts
If you're looking for a specific effect, such as a good night's sleep, finding the right combination of cannabinoids and terpenes is critical to achieve the results you expect. ABX Sleepy Time combines potent THC with a supporting blend of terpenes, including myrcene, linalool, and terpineol, to help support a restful night. Created with premium distillate cannabis oil and MCT coconut oil to aid absorption for optimal benefits, ABX's Sleepy Time Soft Gels are another ideal cannabis product when precise dosing is important.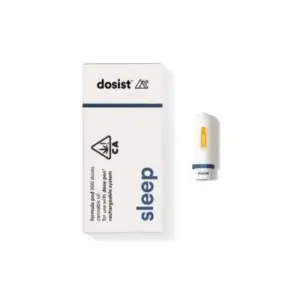 Sleep by dosist 
Dosist was one of the first cannabis companies to offer precise dosing with their vape pens and formula pods. Sleep by dosist combines the best of the cannabis plant's sleep-promoting cannabinoids and botanical terpenes into one targeted formulation to help you fall asleep and stay asleep naturally. The formula pod's precisely metered doses provide an 8:1 THC to CBD formula designed to help you fall asleep and stay asleep naturally.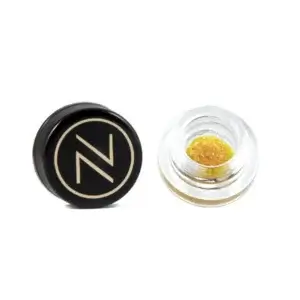 Nug's Fog Berry Live Resin
Living up to its name, Fog Berry Live Resin delivers a soothing berry aroma that contrasts perfectly with a touch of floral earthiness. Its strong sedative effects help put your mind and body into a thick fog of peaceful euphoria, letting you drift away into a deep, peaceful sleep.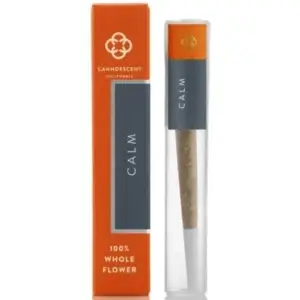 Canndescent Pre Roll
Canndescent has a well-earned reputation for high-quality cannabis products. For a restful sleep, soothe yourself with Canndescent Calm.™ The one-gram, ready-to-use pre-rolls offer the same ultra-premium flower Canndescent puts in their jars. Unpack, light up, then close your eyes as the sandman beckons you to join him.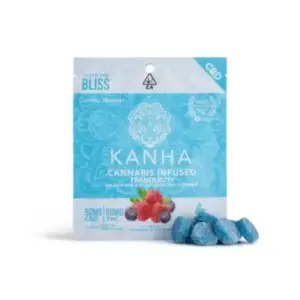 Kanha CBD Gummies 1:1:1 Tranquility 
Kanha makes their gummies with all-natural ingredients, coloring, and flavoring. Each gummy is infused with the highest quality cannabis oils to provide the most consistent, safe experience on the market. Their Blue Raspberry Tranquility gummies are the satisfyingly sweet calm you've been seeking. Kanha formulated their 1:1:1 ratio of CBD, CBN, and THC to provide a restful night's sleep, with more sleep-inducing CBN than any other edible, 1mg of melatonin per gummy, and a blend of terpenes and essential oils that provide a relaxing and soothing effect. Sweet dreams!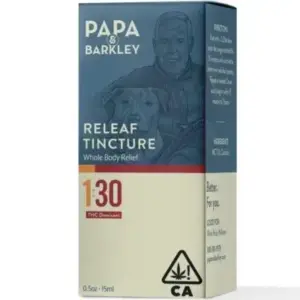 Papa & Barkley Releaf Tincture
Relax with Releaf. Papa & Barkley wants to help you feel better! Their 1:30 Releaf Tincture is an excellent option for people who are experienced with THC and want something for their everyday routines. All Papa & Barkley Releaf tinctures are made using clean ingredients and their proprietary whole plant infusion process. Nothing is made using chemicals or solvents, so you know everything you are putting into your body is natural and from the earth! If you need to get a better night's sleep, the 1:30 Releaf Tincture is for you. Our entire staff at The Artist Tree understand that your cannabis journey may lead to trying different products. Finding the right combination of THC, cannabinoids, and terpenes that work best for your body and needs often takes a little experimentation. Our highly-trained budtenders are here to help and we encourage you to ask questions during your next visit. You can also visit our menu and explore many products that may be helpful to you. Until then, we hope you have a good night's sleep!